Keynote Books announces …
The Last Family Doctor: Remembering My Father's Medicine
Paul E. Stepansky,
with an Afterword by David W. Stepansky, M.D.
"We have grown too disenchanted with our doctors and our doctoring to ignore the story of my father's medicine." So begins historian Paul Stepansky in a book that is for everyone who has ever had a doctor they trusted and admired, perhaps even loved. But The Last Family Doctor is also a book for everyone who has ever had a doctor they found disappointing, perhaps even hurtful.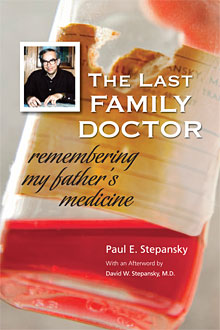 William Stepansky, the subject of this beautifully penned tribute, was a wise and humane general physician, a "GP" who embodied everything that was right about "modern medicine" in the decades following World War II. A man of infinite compassion and deep commitment to his craft and calling, he was the complete physician, the kind of doctor one-time patients liked to claim as their personal physician long after they had stopped seeing him. Beginning in 1953, he provided all that scientific medicine had to offer to the small rural communities he served in eastern Pennsylvania. And he did so with an embracing humanity, an ability to hold and contain the pain, suffering, and anxious concern of others, that is integral to the all but lost art of medicine.
The Last Family Doctor recounts the remarkable odyssey that led William Stepansky to his career in medicine. It begins in the village of Stavishche in the Kiev region of the Ukraine, where the future doctor's parents fled the Pogroms that followed World War I. It moves on to the Rumanian village of Kishinev, where William Stepansky was born in 1922, thence to Bucharest, the French port of Le Havre, Boston Harbor, and the Italian-Jewish enclave of South Philadelphia, where he was raised and educated. The "making of a doctor," as documented here, traverses topics far removed from the life experience of contemporary physicians: intensive violin studies, pharmacy training, army engineering training, battlefield surgery in France and Germany, laboratory work in Pilzen, Czechoslovakia, and admission to Jefferson Medical College in 1947, the latter a result of extraordinary perseverance in which the violin, strange as it sounds, played a part. Precious family and wartime photos lend vividness to William Stepansky's memorable story.
But The Last Family Doctor is not only a memoir. It is a unique window into understanding what has happened to primary care medicine in America over the past six decades. In telling his father's compelling story, Paul Stepansky tells the story of an entire generation of gifted generalists who trained during and shortly after World War II and practiced small-community medicine in the decades after the war. He concludes with a measured assessment of what we have gained, but also what we have lost, in the death of the postwar GP who cared for individuals and their families from birth to death. In so doing, he challenges us to reflect anew on what we need, what we want, and what we can reasonably expect, from our physicians.
The first to take up the challenge is the author's brother, David Stepansky, an internist who practices general adult medicine in the very communities served by his father a half century ago. His thoughtful Afterword, which compares his father's medicine with the medicine he practices today, rounds out the compelling story of a quiet hero who in important ways "represents the doctor we all deserve" (Daniel Carlat, M.D.).
Copyright permissions requests, translation rights requests, and queries regarding purchase of bulk quantities should be directed to info@keynote-books.com.
Praise for The Last Family Doctor
"I very much enjoyed reading about the life and works of Dr. William Stepansky … in this memoir older physicians will relive their youth, while young ones will find a model for behavior."

Howard Spiro, M.D.

Yale Journal for Humanities in Medicine
"The Last Family Doctor is a wonderful book that blends a historical perspective that perfectly captures an earlier era in medicine with a son's loving portrait of his father. An enjoyable read for everyone, medical students and those planning to become physicians will find in Dr. William Stepansky an exemplary and inspiring role model."

Howard K. Rabinowitz M.D.

Ellen M. and Dale W. Garber Professor of Family Medicine, Jefferson Medical College, Thomas Jefferson University

Author, Caring for the Country: Family Doctors in Small Rural Towns
"Paul Stepansky has written a moving biography of his father — but to call this simply a biography is like calling Van Gogh's "Bedroom at Arles" an architectural sketch. In learning about the life of Dr. William Stepansky, one of the last of a breed of true general practitioners, we learn much about the enduring possibilities for genuine human healing. In important ways, the author's father represents the doctor we all deserve, and I suspect we'd all be healthier and happier if we could find such healers in our insurance directories."

Daniel Carlat, M.D.

Publisher, The Carlat Psychiatry Report

Author, Unhinged: The Trouble with Psychiatry
"This is a unique and compelling account of mid-twentieth century American medical practice. Paul Stepansky's portrait of his father's life and medical career is both moving and enlightening. He reminds us of the hurdles in the path of immigrants and minorities of the post-war era who wished to practice medicine and the triumphs of one who not only persisted, but also set a standard for medical practice that has all but disappeared in the late 20th and early 21st centuries. This portrait of Dr. William Stepansky, which is enriched by the testimony of his patients, reminds us of what was possible when desire to practice medicine was combined with dedication to patients' needs. The Last Family Doctor deserves a wide audience of professional and lay readers alike."

Howard I. Kushner, Ph.D.

Nat C. Robertson Distinguished Professor of Science and Society, Emory University

Author, A Cursing Brain? The Histories of
Tourette Syndrome
"A wonderful recapturing of the past, accompanied by extraordinarily acute observations on the significance of a personal story to illustrate major changes in the history of medicine in the mid-to-late decades of the twentieth century, a territory that historians have still not explored well."

John Burnham, Ph.D.

Research Professor of History, Ohio State University

Author, What Is Medical History?